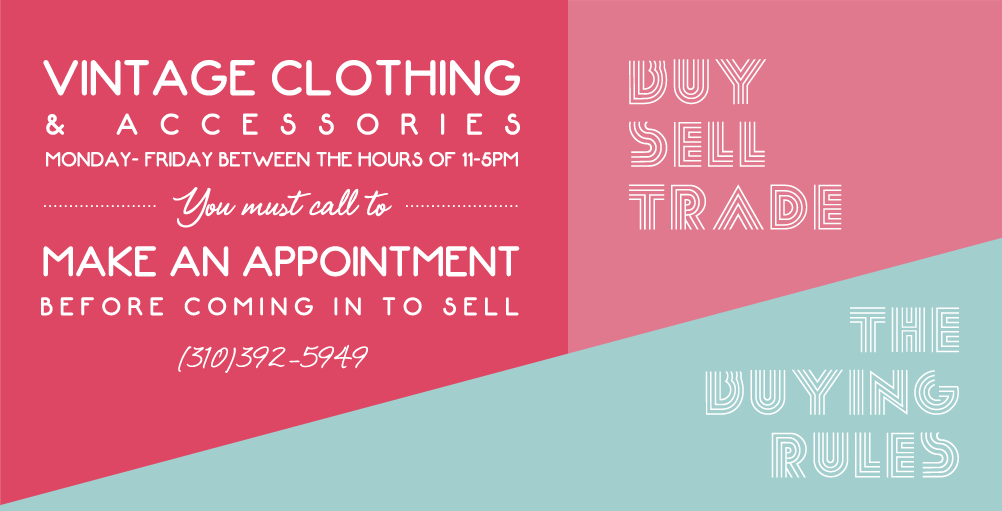 You must have an appointment with one of our buyers, please call 310-392-5949 to make one.
We only buy VINTAGE items. If brands are modern, they must be high-end. For more information on the types of brands and items we buy and do not buy, please click here. For a better understanding of what makes an item "vintage", please click here.
First and foremost we are a consignment shop. If you have too many items to sell we will ask you to consign; If you only have a few items to sell, we will consider buying them straight out for a slightly lower amount than we would give you if we just consigned them for you. For more information on our consignment policy, please click here.
We typically give any where from 25%-30% of the new evaluated retail price of the garment or piece.
How does consignment work? Consignment means that we will hand-pick your items that we would like to sell in our store; We will then discuss a selling price that is fair for all parties; We will then enter the items into our system and keep them for 30-90 days. We pay out on items sold once a month, for any items that were sold during the previous month. Please note that we only write one check per month, and balances must be a minimum of $20.00. After 90 days, it will be your responsibility to come and retrieve your items.